A complete kitchen remodel can seem overwhelming but don't lose sight of the fun part – designing your dream kitchen. If you have made the decision to remodel, we're pretty sure you have already started brainstorming and visualizing what you want your kitchen to look like.
With a realistic mindset of your current layout, explore the possibilities of some basic and classic kitchen design plans. Consider the workflow, ease of movement and the kitchen triangle rule.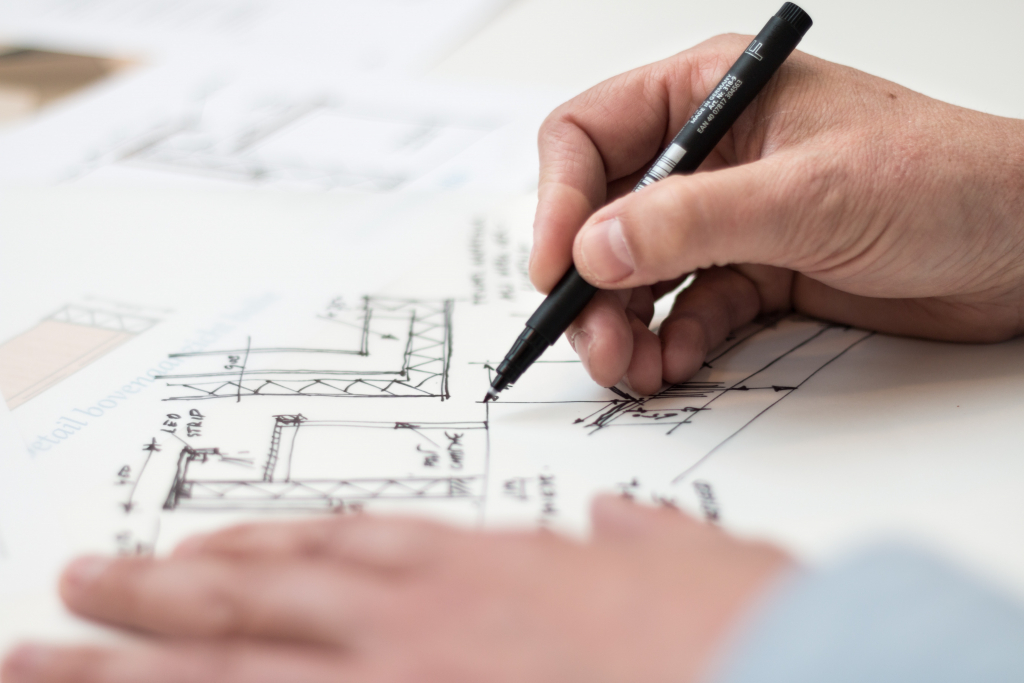 The One-Wall Kitchen Layout
This is where all appliances, cabinets and countertops live on one wall. This type of design can typically be found in small spaces or very large oversized "chef inspired" kitchens. The advantage to this type of design is, it's easy to design and remodel. One of the biggest disadvantages to the one-wall design is you can't stick to the kitchen triangle rule.
The Galley Style Kitchen Layout
You'll find this kitchen design in apartments, condos and smaller spaces. This style typically offers a decent amount of cabinet and counter space, however one of the biggest drawbacks is the tight corridor. Galley style kitchen don't allow for multiple people to be in the kitchen at one time nor does it make a great space for gathering in the kitchen.
The L-Shaped Kitchen Layout
One of the most popular layouts that provides openness and flexibility. This design adheres to the kitchen triangle principle (refrigerator, cooktop and sink are close in proximity of the work space). The L-shaped design offers many possibilities when it comes to design.
The Double-L Layout
Perfect design for the chef of the house. This layout offers tons of work space with plenty of counter capacity as well as enough room between the two L's for an island. Typically two or more people can be working in the space at the same time with the amount of space this layout offers.
The U-Shape Layout
Similar to the galley style design, the U-shape can give you plenty of counter and cabinet space while still offering some openness so you aren't feeling cramped. One drawback is that this design doesn't offer the best for traffic flow however with this design, you really get to utilize all the space from wall-to-wall.
Turning Your Ideas Into Reality
Now that you get the idea of all the classic design options, it's time to thing about the resources you will need to execute your kitchen remodel plan.
Have you decided to the remodel yourself or have you spoken to a designer or general contractor? For those that decide to take on the project themselves, there are several inexpensive computer design software options to help you with planning. You can always head to your local bookstore to look for cardboard punch out kits. Helps you visualize your space in a 3-dimensional view. If you decide to go the general contractor route, make sure you ask if design or sketches can be part of the proposal.
Hiring a general contractor – Do you research and interview several contractors. GC's can range from big construction firms to small business. Make sure you speak with multiple people so you can properly choose the right person for the job. Remember that for several weeks, these people will be going in and out of your home. Read reviews and choose a reputable company. Also remember that things can happen during the entire process so be flexible and understanding – some things can be out of their control.
Do it yourself – Do you have the skills and experience to do it yourself? Taking the project on can help save money and time (if you have the availability to knock it all out in a timely manner). Keep in mind, this isn't a project for the new DIYer or inexperienced individual. Talk to other people that have done similar work on their own. Understand all the pro's and con's and what you are getting yourself into.
About Masters Kitchen and Bath
Masters Kitchen & Bath has been providing top quality construction, cabinetry, and design on kitchen renovations and remodeling since 2004. We coordinate and manage construction, ordering and installation. Masters help homeowners get more enjoyment from their home with new kitchen designs that blend beautifully with their new or existing home decor. Visualize your complete kitchen remodel by visiting our showroom. We also offer consultations where our seasoned Project Manager will inspect your job site, listen to your specific needs and considerations, and offer you design suggestions that best meet your needs.
Masters Kitchen & Bath serve the following areas: Addison, Arlington Heights, Buffalo Grove, Chicago, Des Plaines, Elk Grove Village, Elmhurst, Elmwood Park, Evanston, Forest Park, Franklin Park, Glencoe, Glenview, Kenilworth, Lincolnwood, Melrose Park, Morton Grove, Mount Prospect, Niles, Norridge, Northbrook, Northfield, Oak Park, Palatine, Park Ridge, Prospect Heights
https://masterskitchenbath.com/wp-content/uploads/2020/02/Masters-Logo-01-1024x382.png
0
0
Goran
https://masterskitchenbath.com/wp-content/uploads/2020/02/Masters-Logo-01-1024x382.png
Goran
2019-07-24 15:15:03
2019-07-24 15:15:03
Designing and Planning your Kitchen Remodel